Speck's Summer 2022 Collection Press Kit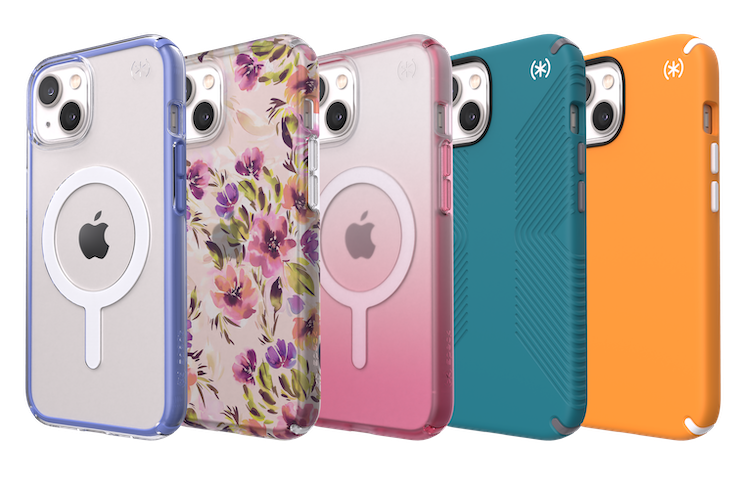 Just in time for the warmer weather, Speck has launched its latest Summer collection, featuring all new colors for Speck's fan favorite cases. Inspired by Citric Summer and Crystaline, this bright and crisp line is made up of uplifting oranges, dreamy purple hues, soft teals and brushed florals.
Available for iPhone 13, iPhone 13 Pro and iPhone 13 Pro Max, the new, colorful line of cases includes refreshes for Presidio2 Grip, Presidio2 Pro, Presidio Perfect-Clear with Impact Geometry, Presidio Perfect-Mist and Presidio Edition.
---
Presidio2 Grip Compatible with MagSafe
Now available in the new Spring Purple and Deep Sea Teal.
Up to 13-foot drop protection for extreme durability
Newly innovated no-slip grips last longer and provide even more grip
Enhanced ultra-responsive buttons for smoother clicks and volume control
Microban reduces bacteria growth by 99% to protect the case creating a cleaner surface
---
Presidio2 Pro Compatible with MagSafe
Now available in the new Grounded Purple and Uplifting Orange.
Up to 13-foot drop protection for extreme durability
Advanced ultra-responsive buttons for smoother clicks and volume control
Slim design allows for easy wireless charging
Microban reduces bacteria growth by 99% to protect the case creating a cleaner surface
---
Presidio Perfect-Clear with Impact Geometry Compatible with MagSafe
Now available in the new Grounded Purple.
Up to 13-foot drop protection for extreme durability with clear impact technology
Perfect-Clear coating resists discoloration and anti-yellowing materials keep your case looking perfectly-clear
Designed with precise magnets that are proven to work reliably with all Apple MagSafe® accessories
Microban® reduces bacteria growth by 99% to protect the case creating a cleaner surface
Raised bezel screen protection
---
Presidio Edition Compatible with MagSafe
Now available in the new Brushed Floral.
Up to 13-foot drop protection for extreme durability
Embedded art prints resist fading and scratching
Innovative clear impact technology cushions your phone and resists damage
Perfect-Clear coating resists discoloration and anti-yellowing materials keep your case looking perfectly-clear
Microban® reduces bacteria growth by 99% to protect the case, creating a cleaner surface
---
Presidio Perfect-Mist Ombre Compatible with MagSafe
Now available in the new Pink Fade, Orange Fade and Teal Fade.
Up to 13-foot drop protection for extreme durability
Innovative clear impact technology cushions your phone and resists damage
Perfect-Clear coating resists scratches and discoloration while anti-yellowing materials keep your case frosty and flawless
Microban® reduces bacteria growth by 99% to protect the case creating a cleaner surface