​​Speck's MagSafe Collection Press Kit
When Apple first introduced MagSafe in 2020, Speck's design team quickly got to work on expanding its existing case collection to fully interact with the MagSafe connection and charging system. Today, Speck announced its latest product in its Compatible with MagSafe line, Presidio Pro Folio for MagSafe, a slim and portable folio case for MagSafe chargers.
In addition to Presidio Pro Folio for MagSafe, Speck has a complete line of Compatible with MagSafe cases designed with precise built-in magnets that work flawlessly with all MagSafe accessories, such as chargers, wallets, power banks, mounts and stands. Taking wireless charging to the next level, these magnets are not only optimized for a better performance and seamless connection, but are proven to last and be more reliable.
Learn more about our versatile, feature rich collection below.
---

Presidio Pro Folio for MagSafe
Key Features:
Slim and portable MagSafe charger folio cover for life on the go
Turns your MagSafe charger into a multi-angle stand for both portrait and landscape viewing
Keeps cables organized with a USB dock to protect the charger
Magnetic closure keeps device secure during travel
Lifetime warranty
---
Presidio2 Grip & Presidio2 Grip Compatible with MagSafe
Key Features:
Up to 13-foot drop protection for extreme durability
Presidio®2 Armor Cloud™ technology cushions and protects your phone like an airbag
20% slimmer design for optimized use with wireless charging accessories such as MagSafe® and Qi
Enhanced ultra-responsive buttons for smoother clicks and volume control
Newly innovated no-slip inverted grips are durable and provide long-lasting grip
Microban® reduces bacteria growth by 99% to protect the case, creating a cleaner surface
Soft-touch finish for a better look, enhanced feel, and added scratch-resistance
Raised bezel screen protection
Lifetime warranty
Presidio2 Pro & Presidio2 Pro Compatible with MagSafe
Key Features:
Up to 13-foot drop protection for extreme durability with Presidio®2 Armor Cloud™ Technology that cushions and protects your phone like an airbag
Soft-touch finish for a better look and added scratch-resistance
Microban® reduces bacteria growth by 99% to protect the case creating a cleaner surface
Advanced ultra-responsive buttons for smoother clicks and volume control
Raised bezel screen protection
Lifetime warranty
---
Presidio Perfect-Clear & Presidio Perfect-Clear Compatible with MagSafe
Key Features:
Innovative clear impact technology cushions your phone and resists damage, protecting against drops up to 13 feet
Perfect-Clear coating resists discoloration and anti-yellowing materials keep your case looking perfectly-clear
Microban® reduces bacteria growth by 99% to protect the case creating a cleaner surface
Raised bezel screen protection
Lifetime warranty
---
Presidio Perfect-Clear with Grips & Presidio Perfect-Clear with Grips Compatible with MagSafe
Key Features:
Up to 13-foot drop protection for extreme durability with innovative clear impact technology that cushions your phone and resists damage
Perfect-Clear coating resists discoloration and anti-yellowing materials keep your case looking perfectly-clear
New design is 20% slimmer with precise magnets that reliably work with all Apple MagSafe® accessories
Newly innovated no-slip inverted grips are durable and provide long-lasting grip
Microban® reduces bacteria growth by 99% to protect the case, creating a cleaner surface
Raised bezel screen protection
Lifetime warranty
---
Presidio Perfect-Clear with Impact Geometry & Presidio Perfect-Clear with Impact Geometry Compatible with MagSafe
Key Features:
Up to 13-foot drop protection for extreme durability with clear impact technology
Perfect-Clear coating resists discoloration and anti-yellowing materials keep your case looking perfectly-clear
Microban® reduces bacteria growth by 99% to protect the case creating a cleaner surface
Raised bezel screen protection
Lifetime warranty
---
Presidio Perfect-Clear Ombre & Presidio Perfect-Clear Ombre Compatible with MagSafe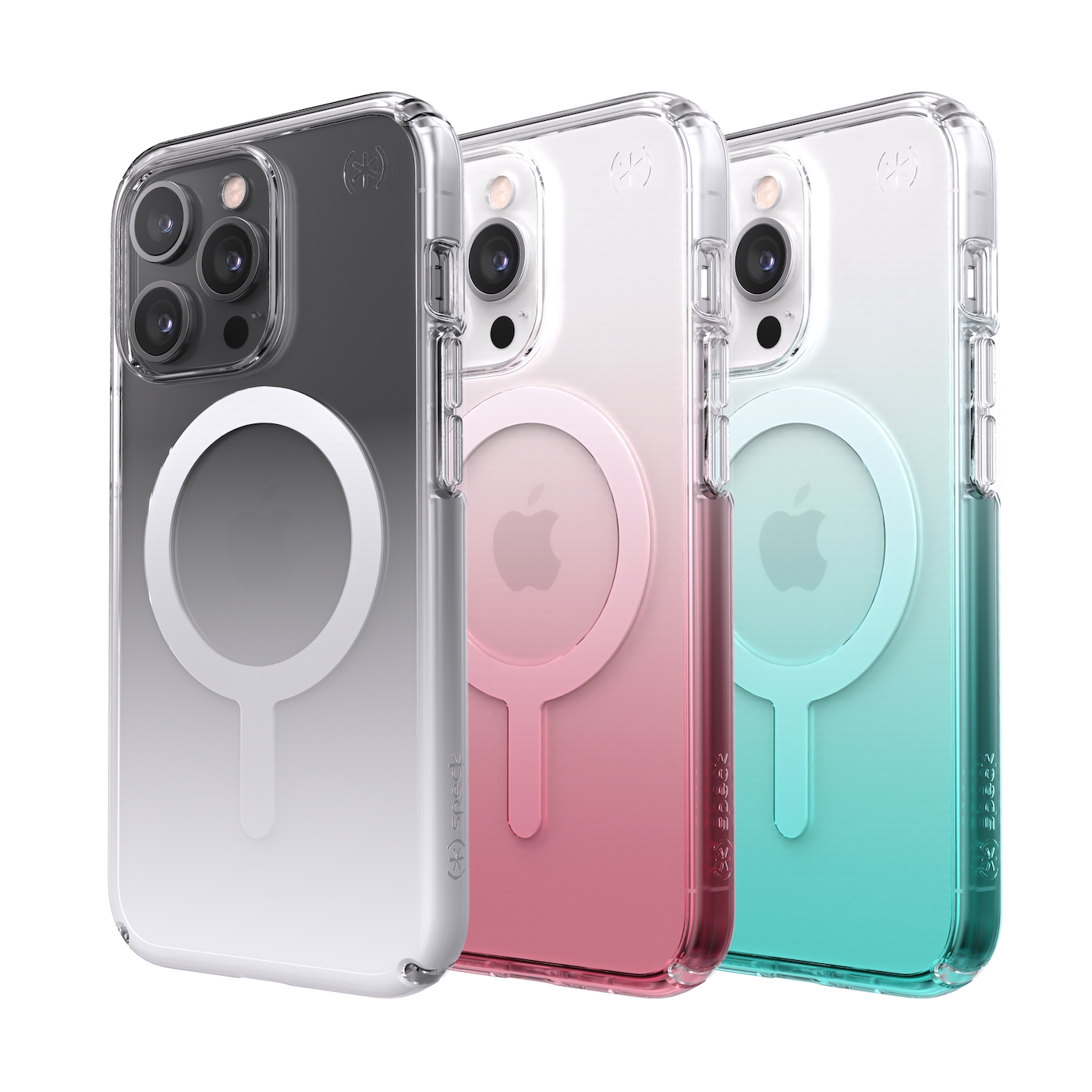 Key Features:
Up to 13-foot drop protection for extreme durability
Bold ombre designs that add style to your device
Innovative clear impact technology cushions your phone and resists damage
Perfect-Clear coating resists discoloration and anti-yellowing materials keep your case looking perfectly-clear
Microban® reduces bacteria growth by 99% to protect the case creating a cleaner surface
Raised bezel screen protection
Lifetime warranty
---
Presidio Perfect-Mist & Presidio Perfect-Mist Compatible with MagSafe
Key Features:
Up to 13-foot drop protection for extreme durability
Innovative clear impact technology cushions your phone and resists damage
Perfect-Clear coating resists scratches and discoloration while anti-yellowing materials keep your case frosty and flawless
Soft-touch matte finish for a more enhanced look and feel
Microban® reduces bacteria growth by 99% to protect the case creating a cleaner surface
Raised bezel screen protection
Lifetime warranty